Overview
Our publications database allows you to search for OPM publications, periodicals, and operating manuals.
Search database
Related Information
Rider Information
Rider Info is an email service that provides periodic announcements to OPM offices of an opportunity to order our publications at a reduced cost by "riding" our printing requisitions using the Rider System of the U.S. Government Printing Office (GPO).
Note: OPM is no longer accepting rider orders from other Federal agencies.
Electronic subscriptions are free to all requestors. You can also subscribe to the list by sending an email to listserv@listserv.opm.gov. In the body (not the subject line, see example below) of that email, please type the following:
Subscribe riderinfo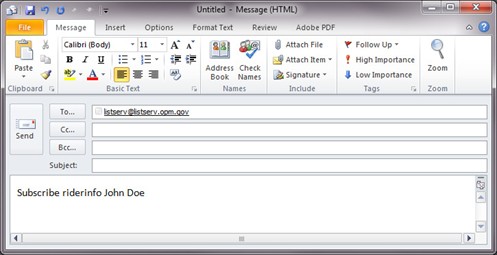 You will receive confirmation of your subscription and instructions on how to unsubscribe and maintain your information current. If you require further assistance, please call us at (202) 606-1822.