The Future of the Workforce
OPM is committed to supporting Agencies and the workforce through a focused strategy on the five priority areas :
Policy and Resources- Develop policies and resources to support agencies during the transition to a more hybrid work environment.
Research and Evaluation: Conduct research to investigate and memorialize lessons learned from the pandemic, identify leading practices, and determine how the Federal Government can remain competitive with other sectors.
Training and Technical Assistance: Provide training and technical assistance to help agencies make strategic decisions, manage their workforce, and prepare for the future state.
Data Analytics: Support agencies with the necessary data and tools to improve our ability to make data-driven human capital decisions.
Stakeholder Engagement: Engage Stakeholders to learn, share best practices, validate future workforce needs and champion the government as a model employer.
This latest guidance was developed to help agencies move forward by explaining how existing workforce policies can support transitioning to a new work environment.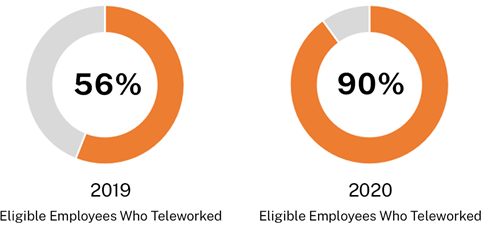 The future of work
84% agree that their agency has the tools/resources needed to successfully respond to future emergencies requiring maximum telework.
86% were able to successfully transition 80% of their workforce to maximum telework.
Source: Fiscal Year 2020 Status of Telework in the Federal Government Report to Congress