Reimagining our work:
The pandemic forced agencies to transition to a new way of working. As the Federal government considers the post hybrid work environment, we need to leverage the lessons learned from our work during the pandemic and reimagine how we work.
OPM is here to help. Among the many functions OPM performs, we provide leadership and support, as more employees reenter the physical worksite, through the development of policy guidance, resources, technical support and training.
This latest guidance was developed to help agencies move forward by explaining how existing workforce policies can support transitioning to a new work environment.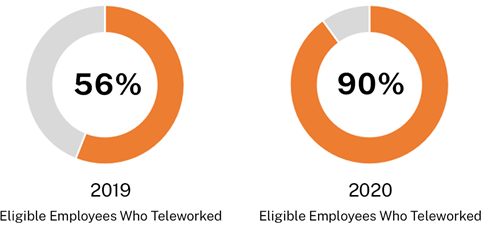 The future of work
84% agree that their agency has the tools/resources needed to successfully respond to future emergencies requiring maximum telework.
86% were able to successfully transition 80% of their workforce to maximum telework.
Source: Fiscal Year 2020 Status of Telework in the Federal Government Report to Congress
OPM Hybrid Work Environment Guidance and Policy
Stay current with the latest guidance released by OPM human capital experts including telework, remote work, FAQs, and more.
View more
Re-Entry and Future of Work Toolkit
To support agencies and employees as they begin to return to the office, OPM has developed a toolkit with information to assist in this next phase and beyond.
View more