Chief Diversity Officers Executive Council
The Council is the principal interagency forum to implement and sustain a national strategy for DEIA across the Federal government and position the Federal government as a model for DEIA.
The Council will advise agencies and their senior leaders on promising practices in DEIA and promote those practices as important to agency strategic plans, missions, and operations; coordinate activities of its member agencies on government-wide policy implementation and partnerships; assist with setting clear strategies, benchmarks, and metrics for DEIA standards of excellence and accountability across the Federal government; and promote an inclusive workplace culture for all Federal employees.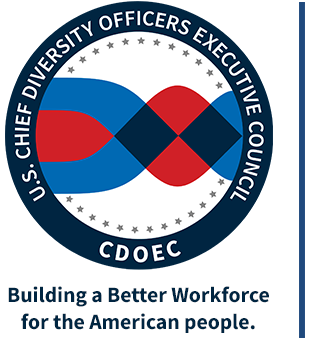 Announcements
The next Council meeting will be held March 16, 2023 from 1:00-3:00 PM EST.
Council Leadership
Kiran Ahuja OPM Director; CDOEC Chairperson
Charlotte A. Burrows Chair, EEOC; CDOEC Vice Chairperson
Jason Miller OMB Deputy Director for Management; CDOEC Vice Chairperson
Janice Underwood Director, Office of Diversity, Equity, Inclusion, and Accessibility; Government-wide Chief Diversity Officer
Contact us for more support
Submit your information below and one of our Customer Service Specialists will begin working on your request. All fields are required. We usually respond within 3 to 5 business days.
Call us if you can't find an answer to your question on OPM.gov or if you can't sign in to OPM Retirement Services Online to manage your annuity account. You may also need to call us for special or complex cases, or because we directed you to.
Phone: 1-888-767-6738
TTY: 711
Hours: Monday thru Friday, 7:40 a.m. to 5:00 p.m. ET
Closed on federal holidays
Our busiest time is between 10:30 a.m. and 1:30 p.m. ET.
Please make sure your first and last name, phone number, email address, claim number, and signature are included in any inquiries or documents you mail to us. We usually respond within 1 to 3 weeks after we receive your mail.
Retirement Operations Center
U.S. Office of Personnel Management
Post Office Box 45
Boyers, PA 16017
Retirement Services Support Center
U.S. Office of Personnel Management
1900 E. Street, NW
Room 1323
Washington, DC 20415
Directions
Hours: Monday thru Thursday, 8:00 a.m. to 4:00 p.m. ET
Friday, 8:30 a.m. to 3:00 p.m. ET
Closed on federal holidays
OPM Retirement Services does not have a main fax number.
You should only fax us documents if an official OPM form or one of our Customer Service Specialists asks you to (the fax number will be provided on the form, or the Customer Service Specialist will provide you one.) Otherwise, you should mail us your documents.