Message from the Director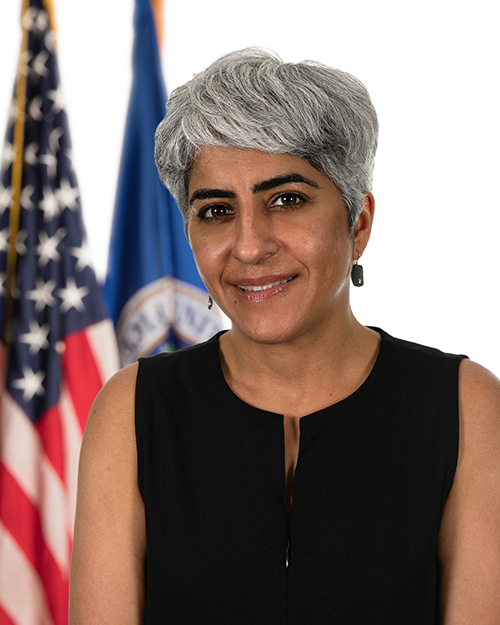 Kiran A. Ahuja
Director
I am pleased to present the United States Office of Personnel Management (OPM) Fiscal Year (FY) 2023 Agency Financial Report (AFR). This AFR highlights OPM's accomplishments achieved during FY 2023 and reaffirms our commitment to accountability, efficiency, and transparency with the resources we are provided by Congress. The performance and financial data presented in this AFR are complete and reliable. OPM has proudly received an unmodified "clean" audit opinion on its financial statements for 24 consecutive years.
OPM made significant strides in FY 2023 on our efforts to build and retain a talented, effective, and diverse Federal workforce. Following the momentum built from implementing President Biden's Executive Order Advancing Diversity, Equity, Inclusion, and Accessibility (DEIA), Executive Order 14035, OPM established a new Office of DEIA and a Chief Diversity Officer Executive Council, which supported the development of a government-wide DEIA Strategic Plan. OPM also released new gender identity guidance to help agencies create more inclusive environments, including workplace transition, confidentiality, and privacy.
A throughline in OPM's work has been to position the Federal government as a model employer. These efforts include:
Establishing proposed regulations to prohibit the use of salary history in setting pay for Federal employment offers;
Completing a Notice of Proposed Rulemaking for refreshed Pathways regulations and a Rule of Many regulation; and
Implementing a final rule on the Fair Chance to Compete for Jobs Act.
OPM also issued a Talent Surge Playbook and employed numerous surge hiring practices like talent dashboards, cross-agency job announcements and shared certificates, and direct hire authorities, among other things, that helped Bipartisan Infrastructure Law agencies fill 100 percent of surge hiring positions. Finally, OPM implemented new recruitment efforts, including a new Intern Experience Program and online Federal Internship Portal, a Talent Pools feature allowing agencies to share certificates of eligible applicants, and a one-stop site for information about careers at intelligence agencies.
OPM has significantly improved satisfaction from FY 2022 with its mission support functions on contracting, budget formulation, and human capital management, which were reflected in a recent Mission Support Satisfaction Survey by the General Services Administration. This is partly thanks to our multi-year effort to modernize Information Technology (IT) systems. We deployed applications in Enterprise Cloud, implemented cloud-based security protections, replaced legacy technology phone systems, and deployed the first chatbot to support Retirement Services survivor benefits, with plans to expand the chatbot to include additional questions and to cover other program areas. OPM also leveraged the creation of the IT Working Capital Fund to support technology-related initiatives. I have full confidence that the invested resources and efforts made on organizational transformation will pay great dividends for OPM to remediate audit issues that contribute to the IT material weakness and better serve as the leader in Federal human capital management.
Throughout FY 2023, OPM focused on placing our customers at the center of workforce services. Utilizing human-centered design, OPM developed a three-page guide to help our customers prepare their retirement journey and new informational resource sheets for human resources offices, payroll offices, and Federal employees to empower them in submitting more complete and accurate retirement application packages. We also strengthened retirement-related resources on OPM.gov, with a more intuitive Retirement Services landing page, streamlined FAQs, and simplified information on the different types of retirement and survivor benefits. As a result of our focus on improving customer experience and hard work by OPM staff, the retirement claims backlog reached a six-year low. Challenges remain in retirement claims processing due to budget constraints, but OPM has taken and will continue to take proactive steps to further improve processing times.
Continued leadership in Federal human capital requires investing in core data capabilities to improve the quality and usability of one of the world's largest datasets of human capital information. OPM developed and released its FY 2023-2026 Data Strategy, launched the first Federal Human Capital Data Analytics Community of Practice, and rolled out a new data portal to seamlessly deliver human capital data products and services to agencies, employees, and the public. These data products include the Federal Employee Viewpoint Survey, Cyber Workforce, and Hiring Manager Satisfaction dashboards. OPM is also piloting a DEIA dashboard with agency partners which will be available to all agencies. Our goal is to allow OPM to develop standards on human capital data, conduct evaluations of key workforce policies, and deliver high-quality workforce planning data analytics products governmentwide.
Finally, OPM continued to collaborate with many partner agencies to develop and manage the Postal Service Health Benefits (PSHB) Program – a new health benefits program for approximately 1.7 million United States Postal Service employees, annuitants, and their eligible family members. We conducted market analysis, met with industry stakeholders, and developed and released a core Postal Health Benefits IT solicitation. OPM also developed the features included in the minimum viable product, including carrier account creation, carrier account authentication, and carrier application. OPM remains committed to bringing innovation, improving enrollment and payment processes, strengthening oversight and internal controls, and delivering high-quality customer experience as we set up the PSHB Program by the first enrollment season starting January 1, 2025.
I am honored to work in partnership with dedicated public servants across OPM. Our workforce is talented, creative, and engaged – they are delivering tangible results for the American people. OPM will continue to improve the performance of our programs and maximize taxpayer value. By focusing on measurable results, we will further improve our ability to meet the unique human resource challenges of the Federal government, ensuring a world-class Federal civilian workforce and serving as a model employer for the nation.
Sincerely,
Kiran Ahuja
Director
United States Office of Personnel Management
November 13, 2023