Federal Human Capital Business Reference Model
The Federal Human Capital Business Reference Model (HCBRM) defines the end-to-end lifecycle of Federal Government Human Capital Management (HCM). The HCBRM was developed by engaging HR policy and industry experts. This model will be used to streamline government-wide HR operations, standardize HR service delivery including information technology, simplify HR acquisitions, and drive transparency in the Federal HR budget.
The HCBRM includes functional categorization and definition, and delegated policy oversight. In the future, the HCBRM will also include legal and regulatory alignment. The HCBRM is composed of 15 functions and 54 sub-functions that represent all the statutorily required activities the government must perform to establish and manage a competitive and world-class workforce. In addition, it identifies the 18 employee lifecycle HR functions that represent Federal Talent Management. The HCBRM is inclusive of all Agency-specific and OPM-specific functional responsibilities.
The HCBRM will enable federal agencies and partners by providing a clear, transparent and common HCM functional structure that:
Informs everyone with a simplified view of HR operational functions and policy ownership;
Provides HR practitioners with a quick reference to understand the functional requirements for their specific area of HR;
Enables agency leadership with a model to more effectively plan for, deliver, assess, and manage their HR workforce, policy, processes, budget, and service delivery; and
Defines the Federal HCM ontology for government-wide HR operations, acquisition, budget formulation, programmatic evaluation, shared services, and data.
Federal HC leaders, HR Practitioners, and partners can use the HCBRM for:
People: Assess, align, and staff their HC workforce readiness based on the agency-specific HC functions outlined in the HCBRM.
Policy: Assess an agencies existing policy structure to ensure they address all aspects of the agency-specific HC functions requirements.
Process: Align, assess, and improve processes and procedures for the agency-specific HC functions.
Service Delivery/HRIT: Align, assess, and modernize HRIT and shared services to support all HC functions.
Data categorization and reporting: establish a common and transparent alignment of government-wide HR operational, contract, and budget data by aligning to the HCBRM coding taxonomy.
The HCBRM is designed to be an electronic interactive model that does not require printing. For more information contact HRLOB@opm.gov.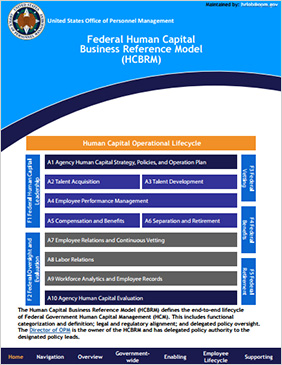 Download HCBRM Interactive Model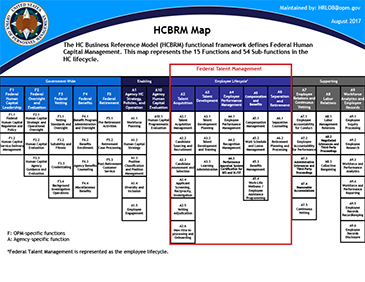 Download HCBRM Map